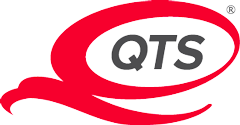 Total Managed Service
Transforming the Data Center Industry
---
Data Centre Operator
Dedicated Connectivity to QTS Data Centers
QTS and Megaport have partnered to empower businesses with direct connections to more of the services they need. Complementing QTS' existing portfolio of network services, Megaport extends your reach to top Cloud Service Providers including AWS, Google, Microsoft, Alibaba, and Oracle. Via Megaport's world-leading Software Defined Network, customers who connect in QTS data centers will achieve rapid provisioning of connections, ultra-low latency, and scalable bandwidth, all with no long-term contracts.
Features and Benefits
QTS is redefining what customers can expect from a data center provider. Operating or managing more than five million square feet in 25 data centers, QTS is the only fully-integrated services platform in the US offering truly hybrid IT solutions that can adapt to the changing and complex IT environment.
Why QTS?
QTS is redefining what to expect from a data center provider.
QTS Data Center Infrastructure
QTS's premier data centers offer unmatched resiliency, redundancy, and scale, providing customers with the service they require both now and in the future.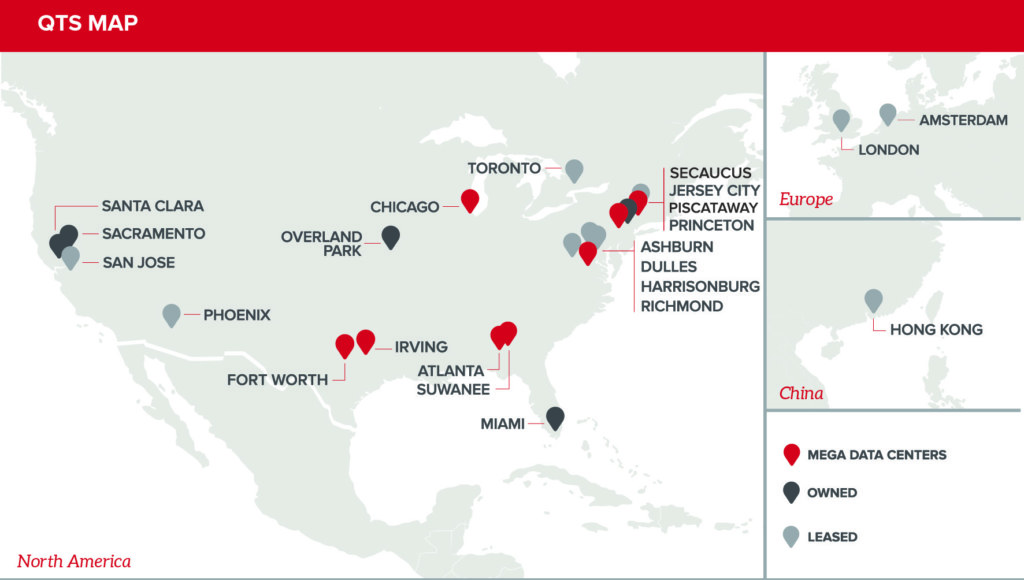 QTS's innovative product set and expanding menu of managed services supports customers' unique needs now and as business requirements change for the future.
Integrated products and services:
Service Delivery Platform

Connectivity Suite

Colocation

Hardware Assure

Hosted and Managed Services (Cloud, Security, Disaster Recovery, and more)

Cloud Services

Hybrid IT

Custom Data Center

Critical Facilities Management

Security and Compliance

Operations Support Center

Flexibility
for truly Hybrid IT solutions

Scalability
that evolves with your business
Protection
you can trust for your most valuable asset

Performance
that unifies your Hybrid needs
About QTS
QTS Realty Trust, Inc. (NYSE: QTS) is a leading provider of secure, compliant data center, hybrid cloud and managed services. QTS features the nation's only fully integrated technology services platform providing flexible, scalable solutions for the federal government, financial services, healthcare and high tech industries. QTS owns, operates or manages more than 5 million square feet of data center space and supports more than 1,100 customers in North America, Europe and Asia Pacific. In addition, QTS' Critical Facilities Management (CFM) provides increased efficiency and greater performance for third-party data center owners and operators.
Take a minute, see how we do it
Private Cloud Connectivity
Controlled and dedicated performance.
Multicloud
Access multiple cloud services (AWS, Azure, GCI) through a single interface (Megaport Portal)
The Megaport Exchange
Anthony Niven, Ecosystem Director discusses the value of the Megaport Exchange to service providers and enterprise.
Don't just take our word for it…

"Megaport allows us to service our private cloud customers over high speed, low latency links and easy replication of our entire infrastructure between our Data Centres. We heard about Megaport from an account manager in one of our other fibre providers.
The Megaport™ solution has allowed us to meet our fibre link requirements as well as exceeding our expectations in regards to dynamic configuration and also friendly customer support."

Lance Warren, Managing Director. Cloudlogix

Cloudscene's partnership with Megaport and AWS provided us the agility and scalability to reach and expand into multiple markets, fast

Sean Bofinger, Technical Architect. Cloudscene

"Megaport provides true flexibility to scale connectivity real-time, up or down at a per Mbps granularity. Another key value to us, both cost and operations wise, is the ability to easily self-provision additional services through the Portal."

Andre Reitenbach, Managing Director. G-Core Labs

"After a successful customer trial using a Megaport™ VXC, we were able to convert the service from the higher daily rate to the more affordable monthly rate quickly and easily."


"… we can now seamlessly interconnect to all three of our key public cloud services through a single provider."

Nicholas Tan, Chief Architect for Infrastructure/Cloud. News Corp Australia